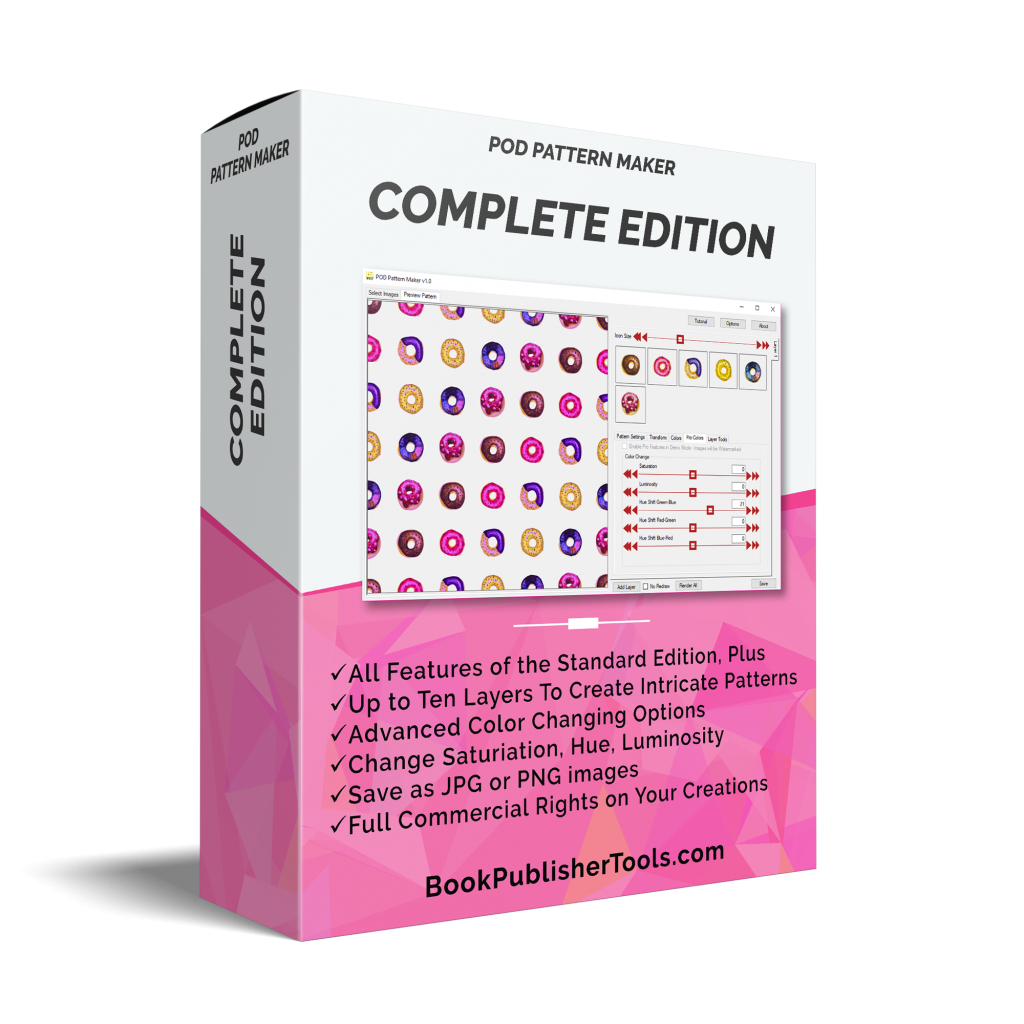 Create beautiful 'surface pattern design' patterns from your clipart. Quickly and easily create patterns that look professionally designed. Includes multiple layers and color changing options.
Print on Demand (POD) is an easy way to start designing and selling physical products, from books to t-shirts, and from mugs to wall art. All you have to do is create a design digitally and upload it to the POD system of your choice. KDP, Merch by Amazon, RedBubble, GearBubble, Zazzle, and many more.
It's never been easier to create your very own patterns than with POD Pattern Maker. With this incredibly easy to use software you can import your own clip art files and turn them into unique patterns for your products. POD Pattern Maker Complete offers you all the features of POD Pattern Maker Standard PLUS colorization and multiple layers
With this fantastic software you can import up to 20 of your clip art images per layer to create patterns as complex as you wish. You have complete control over the pattern repetition, the choice to rotate or reflect individual clip art images at random and even to choose between classic or chaotic patterns for an extra element of customization.
Here are just some of the fantastic end products that are quick and easy to make with this software:
Fabric prints
Digital papers
Wallpaper
Wrapping paper
Journal or book covers
Textile designs
Website backgrounds and illustrations
Coloring pages
Borders for printed books and products
Designs Mugs, water bottles, wall art and all other Print on Demand goods
All finished designs are simple to export in whatever format and size you desire, whether it's for print or digital. And rest assured, whichever way you choose to export, every creation is set at the optimal resolution for the highest, most professional, quality finish.
Take a look at these images for an impression of the software and the results. Actual results will depend on your own customization settings.
POD Pattern Maker Complete Edition Screenshots
Step 1 – Select the images you want to use:

Select a folder on your hard drive or connected USB or file-server
Select the images you want to use – these will be added to the 'Layer Clipboard"
You can click on files in the Layer Clipboard to remove them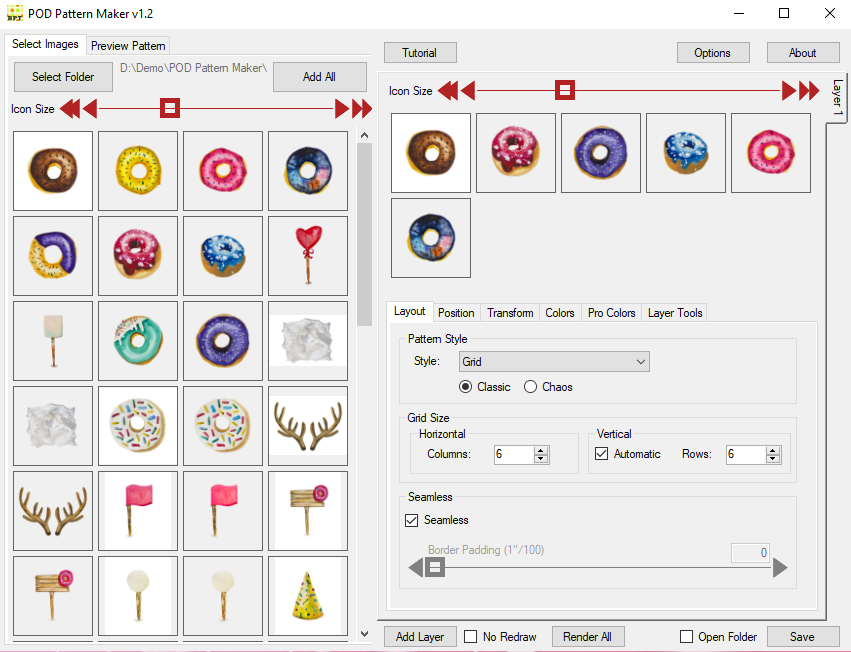 Step 2 – Preview and customize the pattern

Click the "Preview Pattern" tab – you'll see a preview of the pattern right away
Play with the settings (meaning: carefully and with a creative eye change the settings)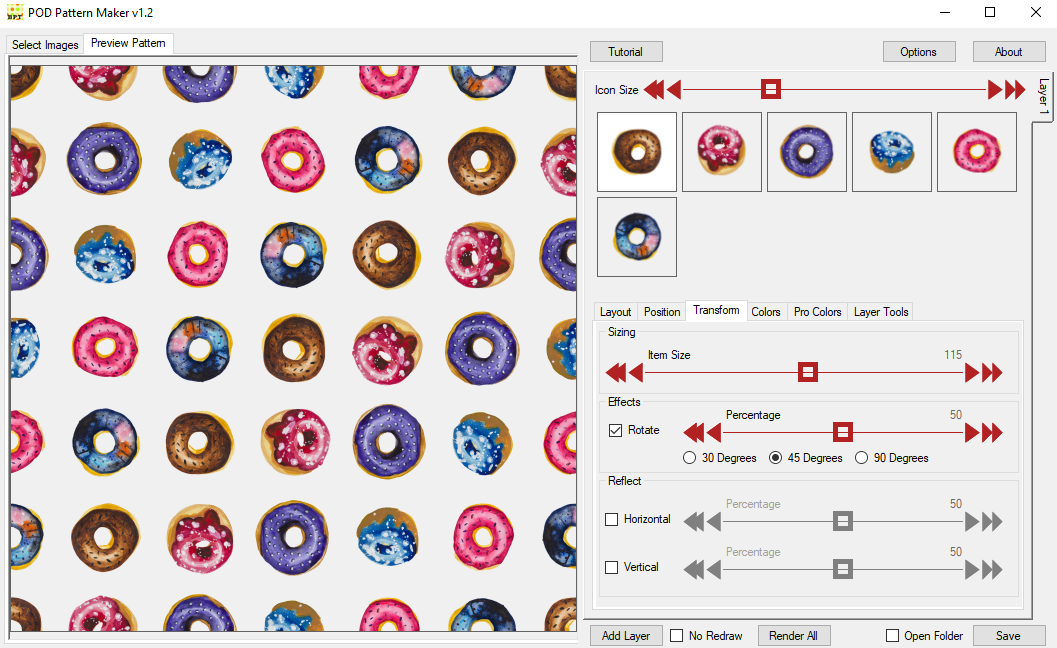 Step 3 – Add more layers

Select files for each layer
Set customization options for each layer
Preview interactively



Step 4 – Save the image on your hard-disk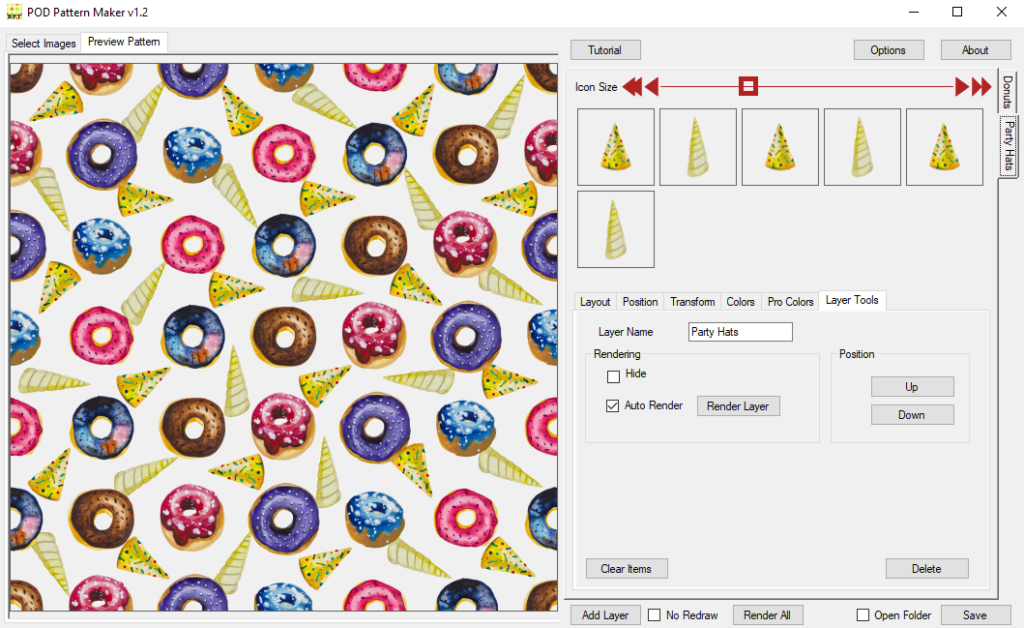 POD Pattern Maker Standard Edition:
Create beautiful patterns, even without any artistic talent
Super-easy to use, interactive way to create patterns
Up to 20 clip art images for each layer
Change the size, rotation and mirroring of your cliparts
Optionally create seamless pattern (this depends on the pattern type and canvas size)
Multiple layers – Up to 10, but usually 2 or 3 is enough
Advanced colorization options to create a totally different look and feel
Successful pattern styles borrowed from surface pattern design – grid and half-drop
Add watermarks to protect your work
Flexible canvas size
Optimized for MS Windows 7 or higher, also compatible with Virtual Windows on Mac (contact customer support for more information)
Save at 300 DPI JPG or PNG for professional printing
Full commercial rights to your creations
Helpful and quick customer support
Regular updates and improvements
One-time payment with no on-going monthly fees
Buy Now
Choose POD Pattern Maker – Complete Edition today for a fun and easy to use software that will make designing unique patterns a breeze.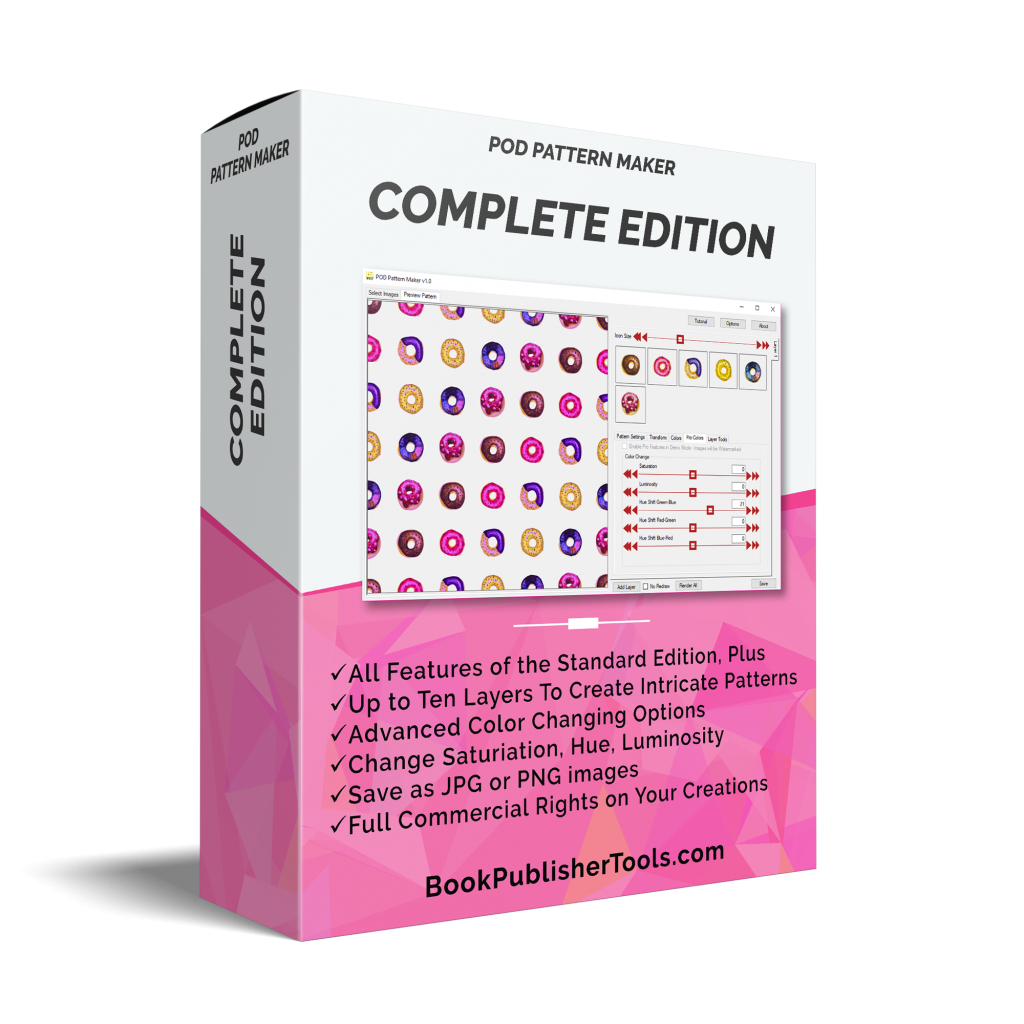 * Local currency prices are adjusted daily. Prices shown include GST/VAT if applicable. Optionally use your VAT id on checkout.
** If the shopping cart does not appear when you click "Add to Cart", please disable your adblocker software for this website.
Our passion is creating software for creators and publishers. With BookPublisherTools you can enjoy continued support and regular updates with new and improved features, all included in the one-off price with no on-going fees (exceptions will be indicated clearly).
All purchases will be available to you immediately. If you don't receive the email to access the software within a few minutes, please get in touch with our helpdesk.
With our 30-day money back guarantee, if for any reason you're not happy with your software, you can get a full refund – no questions asked. Just reach out to our helpdesk.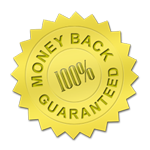 Summary
Author Rating
Software Name
POD Pattern Maker Complete Edition
Operating System
Software Category
Price
Landing Page