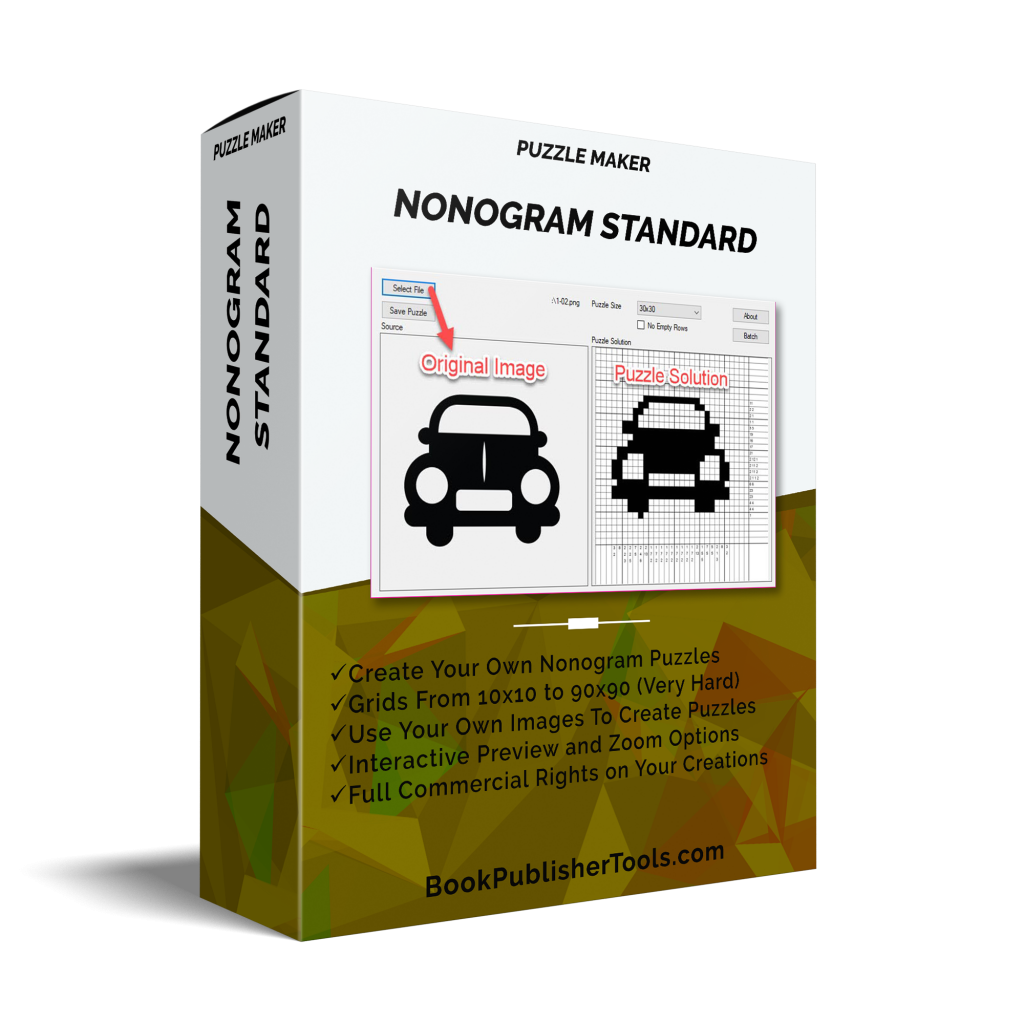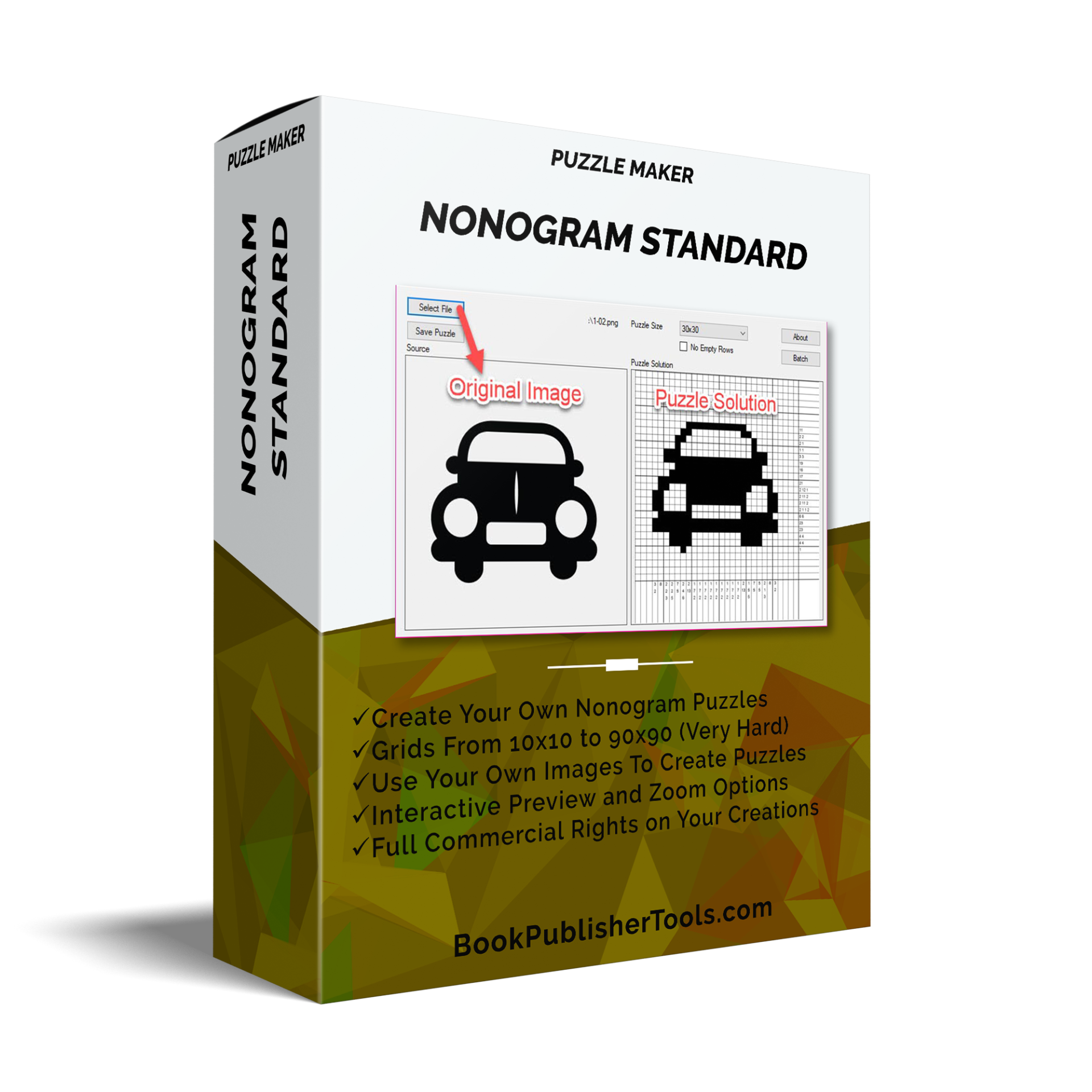 Create Picross-Nonogram-Hanjie-Griddler puzzles from your own clipart images, for use in puzzle books, on websites, PLR. 300 DPI JPG or PNG output.
Nonogram, also called Hanjie, Griddler, Picross, Japanese Puzzles, and probably by other names as well, is a logical puzzle. Using the clues you have to find out which squares should be colored black. The result is an image or text.
If you're publishing puzzles on your website, publishing puzzle books on KDP, selling printables, or need unique content for your website or social media, Puzzle Maker – Nonogram Standard is a great tool to add to your repertoire.
You can set options for each puzzle to get the best results – For example, images with many details usually require larger grid sizes. The results for your settings are shown interactively.
Take a look at these images for an impression of the software and the results. Actual results will depend on your own customization settings.
It's easy.
Select an image file on your computer to use. The resulting puzzle solution will be shown right away.
Save the puzzle.
But there's more:
You can fine-tune the resulting puzzle by removing white borders automatically, select the size of the puzzle, 10×10 up to 90×90 squares.
Puzzle Maker Nonogram will create the puzzles and solutions as image files (JPG or PNG) at 300 DPI on your computer.
Create Nonogram puzzles from your own images
Puzzles grids from 10×10 up to 90×90 – very easy to very complex puzzles
Optionally select a different background color
Interactive preview allows you to select the best grid size and options for your puzzle
Optionally remove padding from your image
Includes puzzle solutions
Single payment (no subscription)
On-going updates and customer support
Buy Now
Choose Puzzle Maker – Nonogram Standard today for a fun and easy to use software that will make designing unique puzzles a breeze.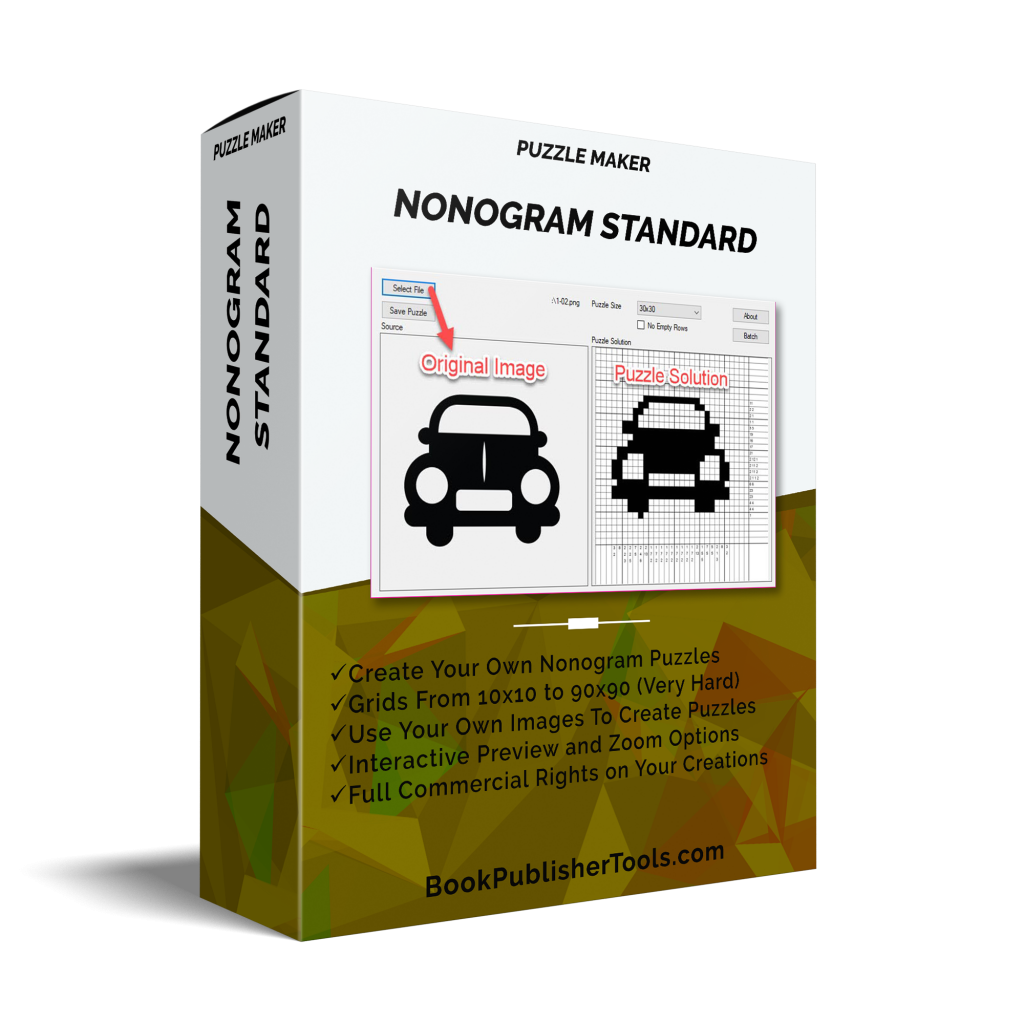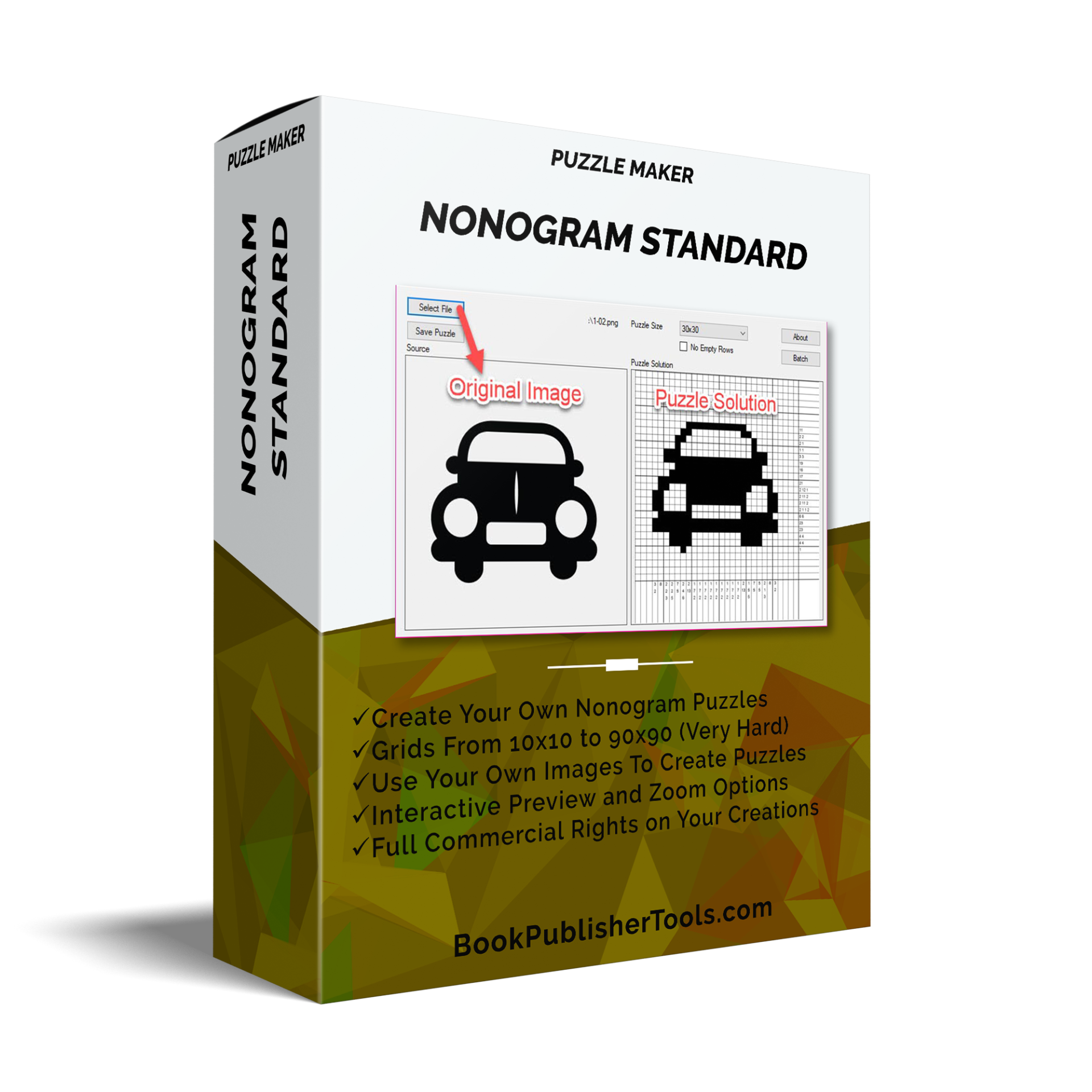 * Local currency prices are adjusted daily. Prices shown include GST/VAT if applicable. Optionally use your VAT id on checkout.
** If the shopping cart does not appear when you click "Add to Cart", please disable your adblocker software for this website.
Our passion is creating software for creators and publishers. With BookPublisherTools you can enjoy continued support and regular updates with new and improved features, all included in the one-off price with no on-going fees (exceptions will be indicated clearly).
All purchases will be available to you immediately. If you don't receive the email to access the software within a few minutes, please get in touch with our helpdesk.
With our 30-day money back guarantee, if for any reason you're not happy with your software, you can get a full refund – no questions asked. Just reach out to our helpdesk.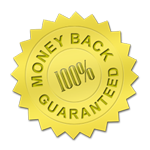 Summary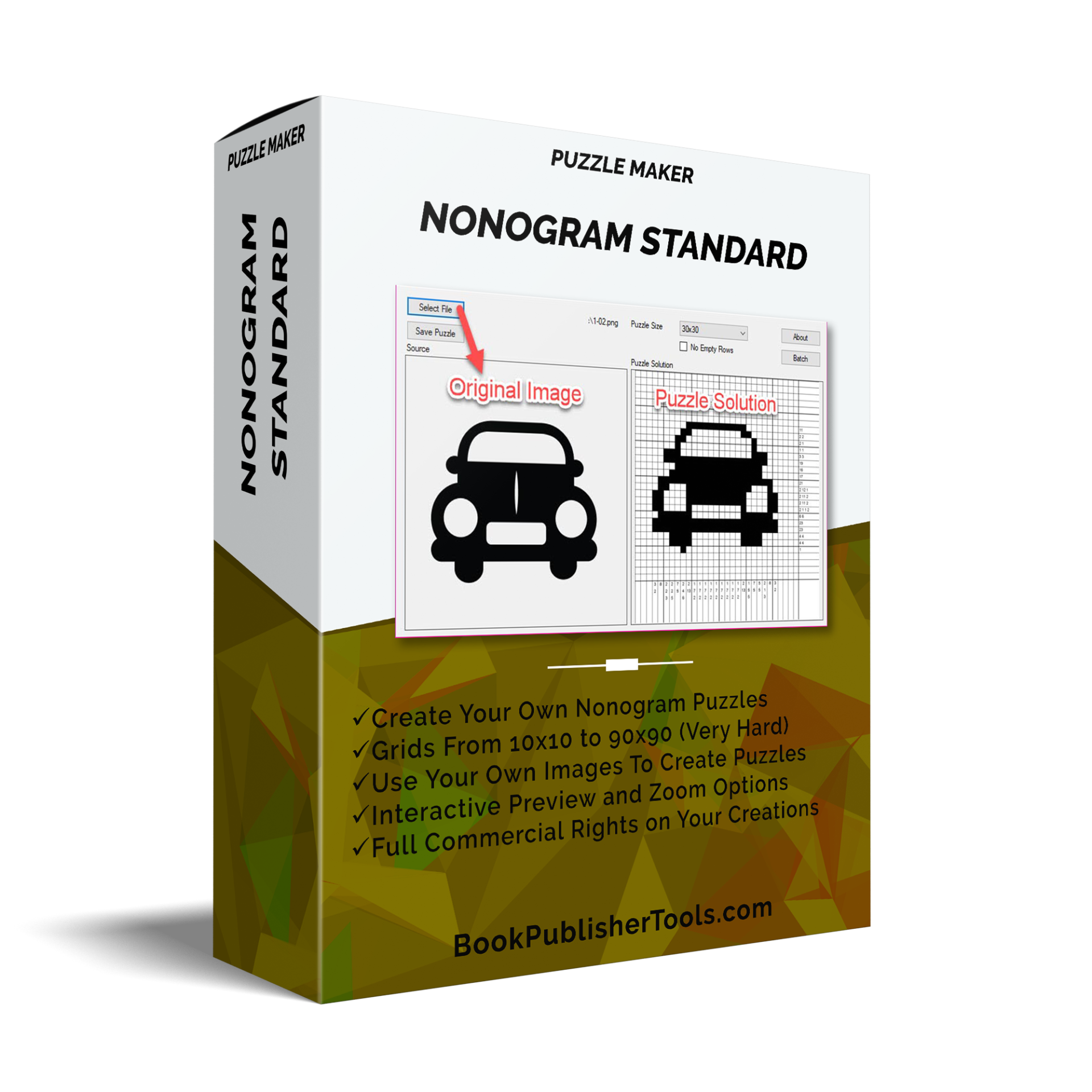 Author Rating
Software Name
Puzzle Maker - Nonogram Standard
Operating System
Software Category
Price
Landing Page