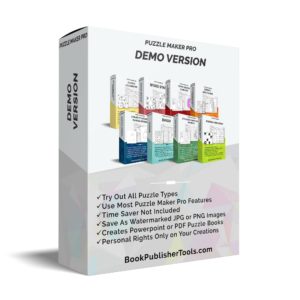 Test Puzzle Maker Pro and see if it works for you:
Try Out All Puzzle Types
Use Most Puzzle Maker Pro Features (Time Saver Not Included)
Save as Watermarked JPG or PNG Images
Create Powerpoint or PDF Puzzle Books
Personal Rights Only for your creations
You can try out Puzzle Maker Pro with all its puzzle modules and advanced features before you buy.
It is strongly suggested to do this, to verify that it technically works on your computer (Windows only, Mac will work if you use Parallels, Virtualbox or a similar system): We will no longer refund purchases for Puzzle Maker Pro made after May 1st 2020, due to fraud and abuse of our policies. Feel free to contact our helpdesk if you have any questions: https://www.bookpublishertools.com/members/helpdesk.
Puzzle features will differ, depending on the puzzle type you're using. You can see all our puzzle modules here.
Get It Now
Test Puzzle Maker Pro today for a fun and easy to use software that will make designing unique puzzles a breeze.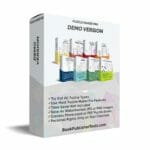 Our passion is creating software for creators and publishers. With BookPublisherTools you can enjoy continued support and regular updates with new and improved features, all included in the one-off price with no on-going fees (exceptions will be indicated clearly).
All purchases will be available to you immediately. If you don't receive the email to access the software within a few minutes, please get in touch with our helpdesk.
Unfortunately we no longer give refunds for Puzzle Maker Pro modules. If you're not sure if it will work for you, you can try the free demo version. The free demo version has full functionality (except Time Saver), but it will create watermarked puzzles. You can get access on this page: Puzzle Maker Pro – Demo
Summary
Author Rating
Software Name
Puzzle Maker Pro - Connect the Dots - Manual Edition
Operating System
Software Category
Price
Landing Page