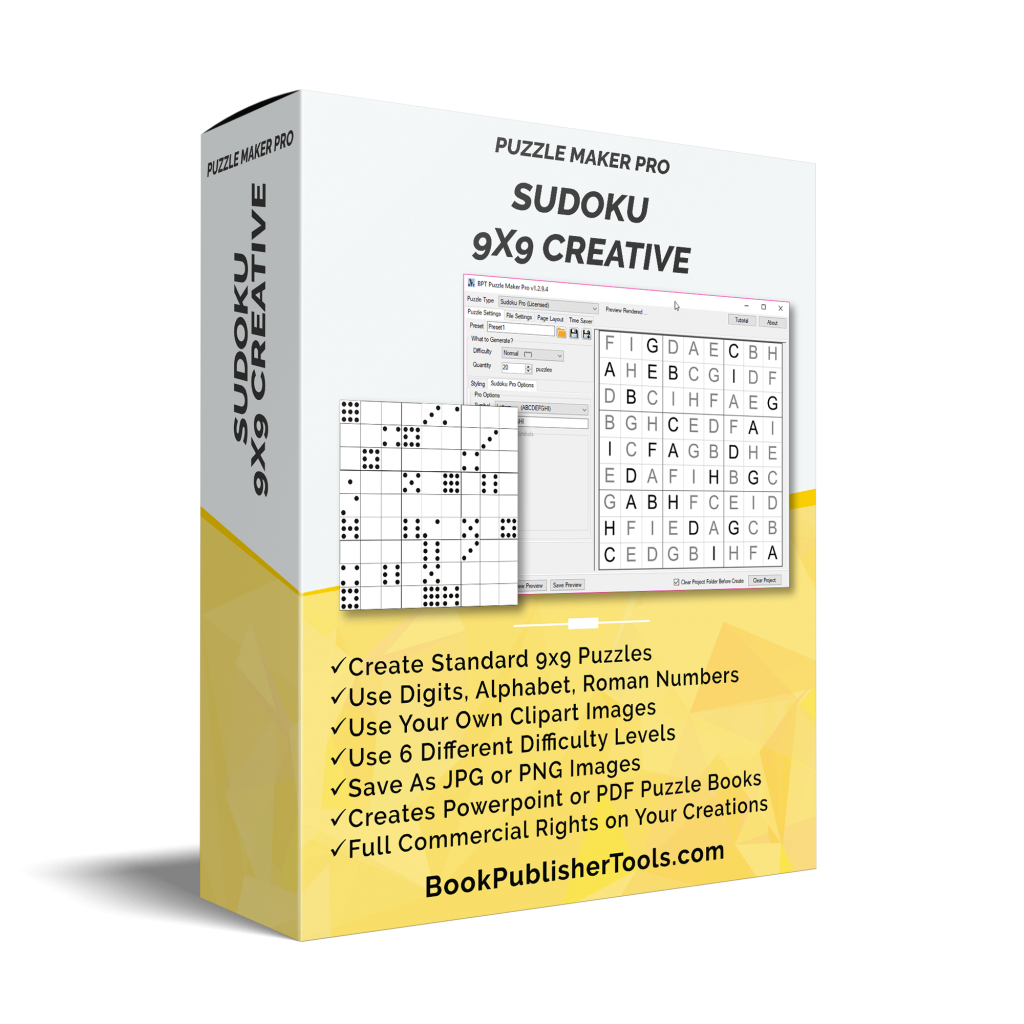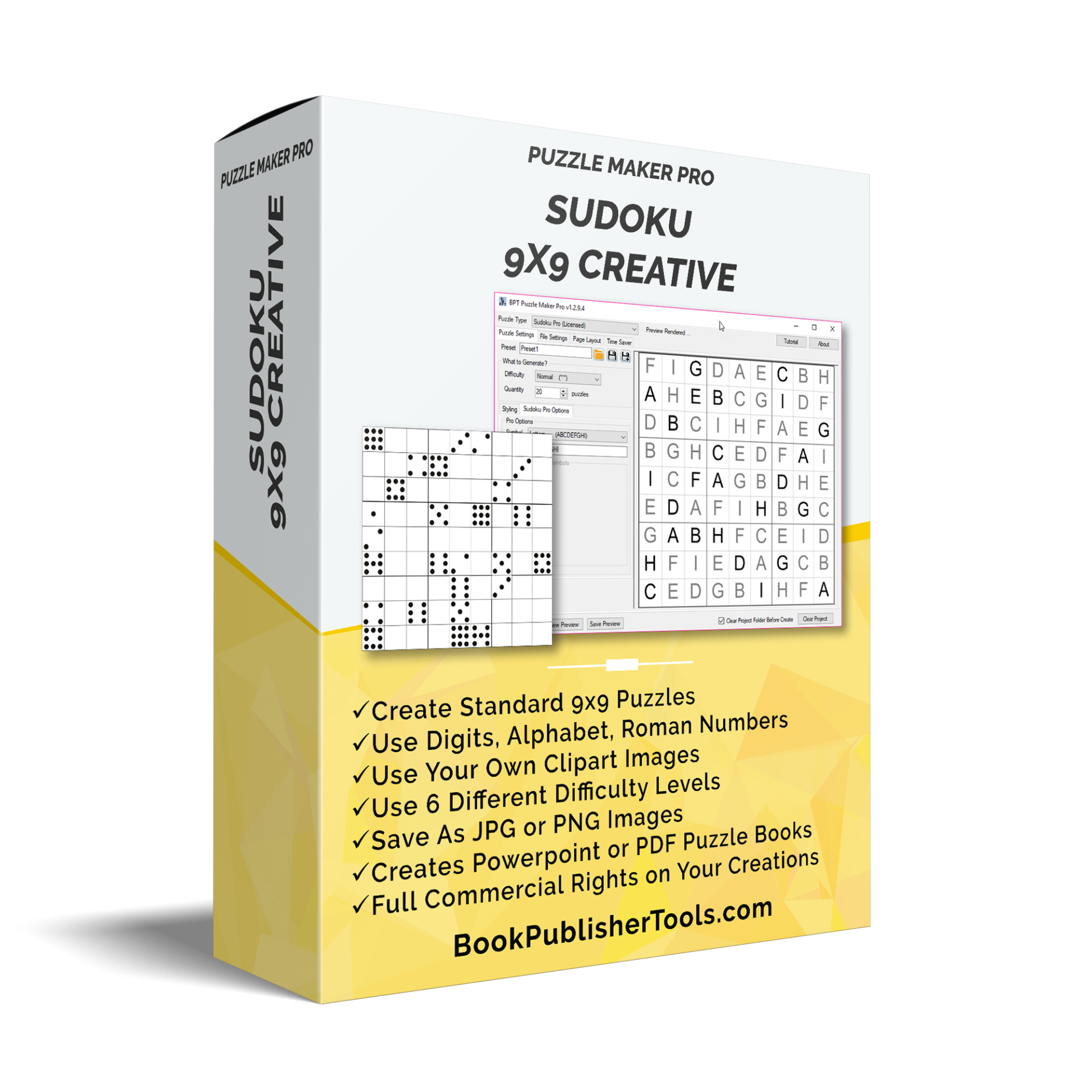 All Sudoku 9×9 Standard features, PLUS innovative sudokus using letters, roman numbers and clipart. Unique puzzles each with one single solution.
In need of innovative sudoku puzzles that are solvable with one unique solution? Maybe you need 1000's of them?
If you're publishing puzzles on your website, publishing puzzle books on KDP, selling printables, or need unique content for your website or social media, Puzzle Maker Pro – Sudoku 9×9 Creative will help you achieve your goals.
In addition to the standard 9×9 sudokus with digits 1 to 9, you can use alphabetic characters, Roman numbers, or even your own clipart. Whether you need just one puzzle for your website, or 100's for a sudoku puzzle book, this is the most flexible and customizable sudoku software available anywhere.
Take a look at these images for an impression of the software and the results. Actual results will depend on your own customization settings.
It's easy.
Select the symbol style and difficulty level you want and click "Create".
To use clipart, you can drag and drop your images on the clipart area, and then click "Create".
Or you can decide to change the font type and color, the line and canvas colors, etc, before creating.
This way you can easily create standard sudoku puzzles and puzzle books using digits 1 to 9.
But there's more:
You can use any TrueType font that's installed on your computer, change colors, line weight, and more, to create sudokus in your own unique style. By using the Preview button, you can see a sudoku puzzle and solution with the new style right away.
Like any Puzzle Maker Pro module, Sudoku 9×9 Creative will create the puzzles and solutions as image files (JPG or PNG) at 300 DPI on your computer. Lightning fast.
Puzzle Maker Pro is our framework for almost all the puzzle modules. It offers additional functionality in a standardized way. Once you use one of the puzzle modules, each next module feels like 'coming home'. Some basic, but many advanced features to help you to be productive.
Presets – You can save the settings as a preset and use these presets for different projects or book series, making it even easier to create puzzles with your unique styling. In addition to that, after creating or previewing your puzzles, the settings will be saved for the next session.

Save and Export Options – Once you're satisfied with the preview and are ready to create puzzles, there are several output options to suit your needs: Puzzles and solutions will be created as separate files on your computer in either PNG or JPG format. This allows you to use these puzzles anywhere and any way you want. The images are saved with 300 DPI for professional high-quality printing.

There are also additional output options to automatically create a puzzle book. In addition to PNG and JPG you can export to PDF or Powerpoint format. You don't need Powerpoint to create the files, but you'll need Powerpoint 2007 or newer to open the files.

Time Saver – For most puzzle types there is Time Saver extension, that will let you create puzzles and puzzle books even faster and comes with additional layout options. This is great for book publishers and PLR sellers.
Don't just make a good puzzle, make a pro puzzle with Puzzle Maker Pro.
Create 9×9 sudoku puzzles with digits 1-9
Create innovative sudoku puzzles using letters, Roman numerals or domino style dots.
Up to 5000 puzzles with a single mouse-click
Includes puzzle solutions
Advanced styling options for your puzzles
Detailed control over lines, line width and line color
Detailed control over fonts, font color, letter size and letter positioning
Super-easy to use, ideal for novices and experienced puzzle makers alike
Intuitive dashboard controls and interactive preview to see your changes right away
Save and use your own presets for puzzle or page settings
Export your individual puzzles and solutions at 300 DPI JPG or PNG for professional printing
Export as a puzzle book in JPG, PPTX (PowerPoint) or PDF format (advanced layouts require Time Saver extension).
Options to set margin sizes for easy puzzle book publishing
Optimized for MS Windows 7 or higher, also compatible with Virtual Windows on Mac (contact customer support for more information)
Full commercial rights to your creations
Helpful and quick customer support
Regular updates and improvements
One-time payment with no on-going monthly fees
Buy Now
Choose Puzzle Maker Pro – 9×9 Creative today for a fun and easy to use software that will make designing unique puzzles a breeze.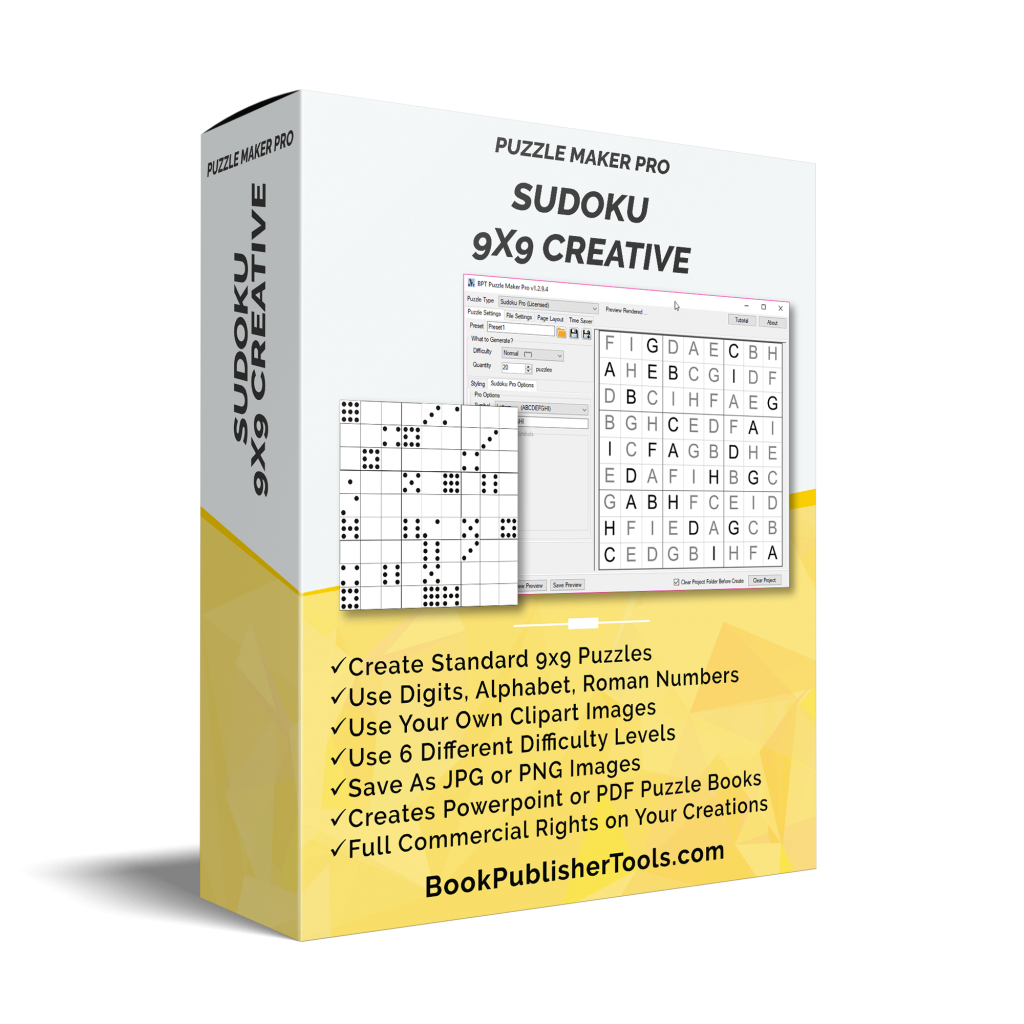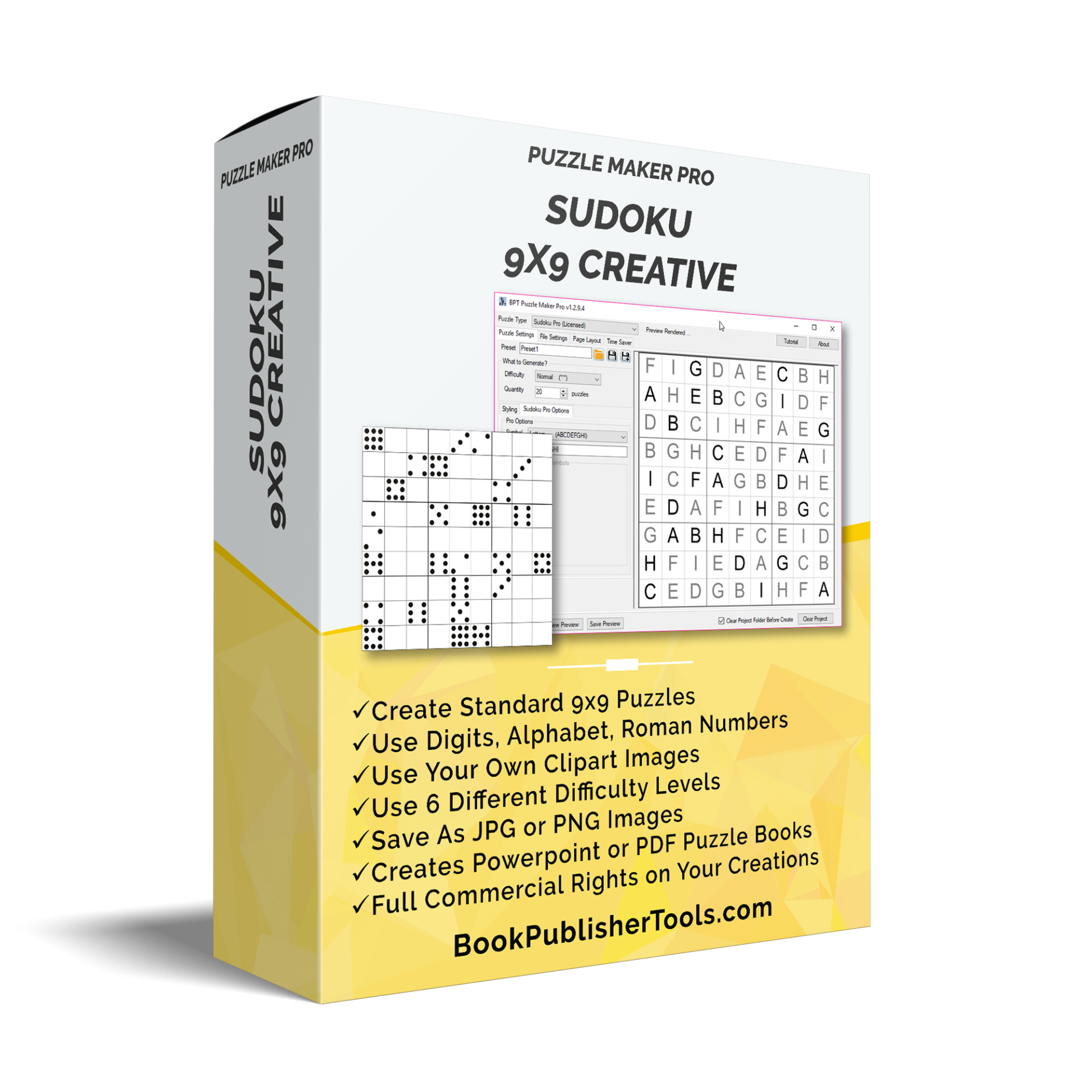 * Local currency prices are adjusted daily. Prices shown include GST/VAT if applicable. Optionally use your VAT id on checkout.
** If the shopping cart does not appear when you click "Add to Cart", please disable your adblocker software for this website.
Our passion is creating software for creators and publishers. With BookPublisherTools you can enjoy continued support and regular updates with new and improved features, all included in the one-off price with no on-going fees (exceptions will be indicated clearly).
All purchases will be available to you immediately. If you don't receive the email to access the software within a few minutes, please get in touch with our helpdesk.
Unfortunately we no longer give refunds for Puzzle Maker Pro modules. If you're not sure if it will work for you, you can try the free demo version. The free demo version has full functionality (except Time Saver), but it will create watermarked puzzles. You can get access on this page: Puzzle Maker Pro – Demo
Summary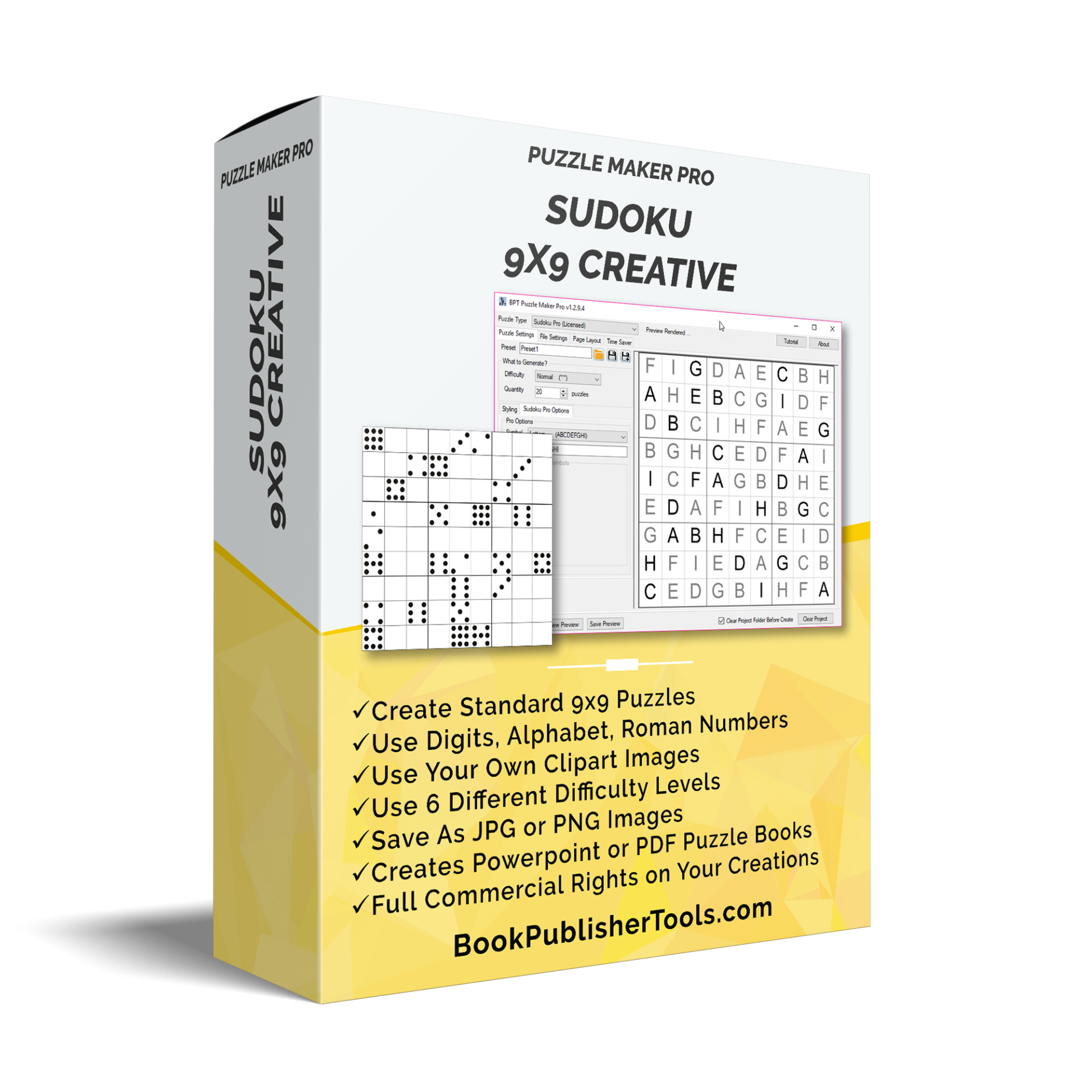 Software Name
Puzzle Maker Pro - Sudoku 9x9 Creative
Operating System
Software Category
Price
Landing Page